ENGLISH BIOGRAPHY
Praised for her "dramatic voice of a real fine quality" and her "breathtaking, passionate and eclectic charisma on stage", Italian mezzo-soprano Elena Bresciani made her debut very young, in 1999 in Verdi's La Traviata (Flora) and J.S. Mayr Che originali (Celestina).
After that, Elena has won several prestigious awards, including a scholarship from the Arturo Benedetti Michelangeli International Festival, the Johann Simon Mayr Prize and the 3rd Prize at the International Competition Pelizzoni in Parma. She was amongst the finalists at the Teatro Comunale di Bologna Young Artists Programme on 2009 and winner at the Fondazione Pergolesi Spontini Young Artists Programme in Jesi on 2010. In 2011 International Competition Capriolo in Franciacorta, she received special awards as best mezzosoprano and best verdiana voice. In 2012 International Competition "Città di Brescia" she received a special awards as best mezzo by the great Italian mezzo Fiorenza Cossotto.
2016/2017 engagements have included: Gioconda (Laura Adorno) and Norma (Adalgisa) at the Bergamo Summer Music Festival (both with soprano Denia Mazzola Gavazzeni), Cavalleria Rusticana (Mamma Lucia) at the Festival Maria Callas, world première of Ghisleri's Nel mondo di mezzo and Missa Brevis, and première of Eliot's Cantata (Tessadrelli). Elena made her debut as soloist in Mozart's Requiem conducted by Filippo Bressan (Feb. 2017 - TDF Forlì season) with Orchestra Bruno Maderna.
Elena has performed for such opera houses, venues and festivals: Weill Recital Hall-Carnegie Hall NY, Teatro Donizetti Bergamo, Hertford Music Society Oxford, Sala Alfredo Piatti Bergamo, Bulgarian Varna Palace of Culture, Festival "Marie Kraja" in Tirana, Fondazione Pergolesi Spontini, Teatro Goldoni Livorno, Duomo in Cremona, Basilica Santa Maria delle Grazie Bergamo, Basilica Santa Sabina Roma, Teatro Bibiena Mantova, Festival G.B. Rubini, Festival Pergolesi-Spontini, Teatro Comunale Ferrara, Teatro dell'Aquila Fermo, Teatro Verdi Brindisi, Complesso Monumentale Astino (Expo 2015), Teatro Marrucino Chieti, Cantiere Internazionale d'Arte Montepulciano, Sala Estense Ferrara, Teatro Santa Chiara Brescia, Sala della Musica Ferrara, Teatro Diego Fabbri Forlì, Festival Bergamo Estate, Festival Maria Callas, Teatro della Fortuna Fano, Teatro Filarmonico Verona, ecc.
Her performances are regularly broadcasted by RSI and in 2016, she was awarded "Gianandrea Gavazzeni Prize" for her eclectic voice.
During last seasons, she took part in several productions including opening season at TGL in Livorno performing Beppe role in Mascagni's Amico Fritz; Donizetti's Il Campanello (Madama Rosa) at the Teatro della Fortuna in Fano; Verdi's Rigoletto (Giovanna/Maddalena) in Ferrara and Mantova; Verdi's Don Carlo (Eboli) and Traviata (Flora) in Mantova; Britten's Albert Herring (Florence Pike) in Montepulciano directed by Keith Warner and conducted by Roland Böer with great critical acclaims. Elena performed at the Pergolesi Festival in Jesi the World Première of Luciano di Giandomenico's Cantata "Chiuso nel Centro Orfeo", conducted by the composer. She also sang Suzuki in Puccini's Madama Butterfly in Jesi, Fermo and Brindisi (Teatro Comunale di Bologna production) and in another production in Chiavari; and Fenena in Verdi's Nabucco in Chieti (Teatro Marrucino) and Varese Ligure Festival, Berta (Barbiere di Siviglia) at the Festival Maria Callas. She tooks part at the concert "Verdi Women" at the Teatro Moriconi in Jesi (Fondazione Pergolesi Spontini) singing Amneris, Eboli and Fenena.
Recently, she also sang at the Teatro Filarmonico in Verona with the famous Italian soprano Fiorenza Cedolins receiving great critical acclaims. In 2012, she was also Celia Peachum (Threepenny Opera - Giorgio Strehler Italian Version) at the Teatro Goldoni in Livorno conducted by Nathalie Marin and she also performed a recital at the Teatro Bibiena in Mantova. In 2013, she performed Respighi's Tramonto and Casella's La favola di Orfeo (Driade/Baccante) at the Teatro Diego Fabbri in Forlì.
Recording include Donizetti's Il Campanello (DVD Bongiovanni).
Chosen by the Mascagni Festival, Elena opened 2009/2010 season at the TG of Livorno with soprano Fiorenza Cedolins, singing Mascagni's Cavalleria Rusticana, Zanetto and Amico Fritz (Beppe role) conducted by Fabrizio Maria Carminati. Elena was invited to perform at the International Festival Marie Kraja in Tirana with the Tirana Philharmonic Orchestra. The Festival was broadcasted on worldwide TV.
An accomplished recitalist, Elena Bresciani has performed at Carnegie Hall in New York (Weill Recital Hall), in the UK including London, Oxford and Cambridge, at many venues all over in Italy, Switzerland, Albania and at the Varna Palace of Culture in Bulgaria. In 2001, Elena was invited to sing in Verdi's Anniversary Celebrations in Milan with outstanding mezzo-soprano Giulietta Simionato. Elena also specialist in the Italian vocal chamber music repertoire of the nineteenth and twentieth centuries.
Ms. Bresciani's concert and oratorio experience include Messiaen's Poèmes pour MI, Vivaldi's Gloria, Respighi's Il Tramonto, Tosti's "Quattro canzoni di Amaranta", Liszt's "Tre sonetti del Petrarca", Berlioz's Les Nuits d'été, Pergolesi's Stabat Mater (that she performed several times), Gavazzeni's "Canti per Sant'Alessandro", Donizetti's Messa di Requiem, Mozart's Messa di Requiem. Elena's concert repertoire includes also Rossini's Stabat Mater and Petite Messe Solennelle, Stravinskj's Pulcinella and Verdi's Requiem.
Italian mezzo-soprano Elena Bresciani graduated with Honours at the Conservatorio Gaetano Donizetti in Bergamo. Elena holds a degree in Italian Literature at Milan's Universita' Statale and followed by a postgraduate diploma in Theatrical Arts and Drama at the Universita' Cattolica in Milan. In 2006, she was appointed Fellow of Trinity-Guildhall in Voice Performance in London. Her teachers have included Carlo Meliciani, Julia Hamari, Phyllis Curtin, and Fiorenza Cedolins. She lives in northern Italy and she is also a well-recognized watercolorist.
Last update: Feb. 2017
QUOTES
ELENA BRESCIANI IS A GREAT SOUL, GENEROUS, ENTHUSIASTIC, IMPULSIVE. THESE CHARACTERISTICS ARE TO DOMINATE HER WAY OF SINGING, PASSIONATE, DIVERSE, SUCCESSFUL. (Giorgio Appolonia, RSI)
WARM, SOFT AND ENVELOPING VOICE, BENT WITH MASTERY TO THE TECHNICAL DICTATES AND LYRICAL INTERPRETATION. WE SAW HER GO INSIDE DISPARATE CHARACTERS, BITING THE STAGE WITH THE ENERGY AND CHARISMA OF A GREAT PERSONALITY. (Filippo Tadolini, director and artistic director Forli per Giuseppe Verdi)
MAGNIFICENT CHARACTER. (Classic Voice)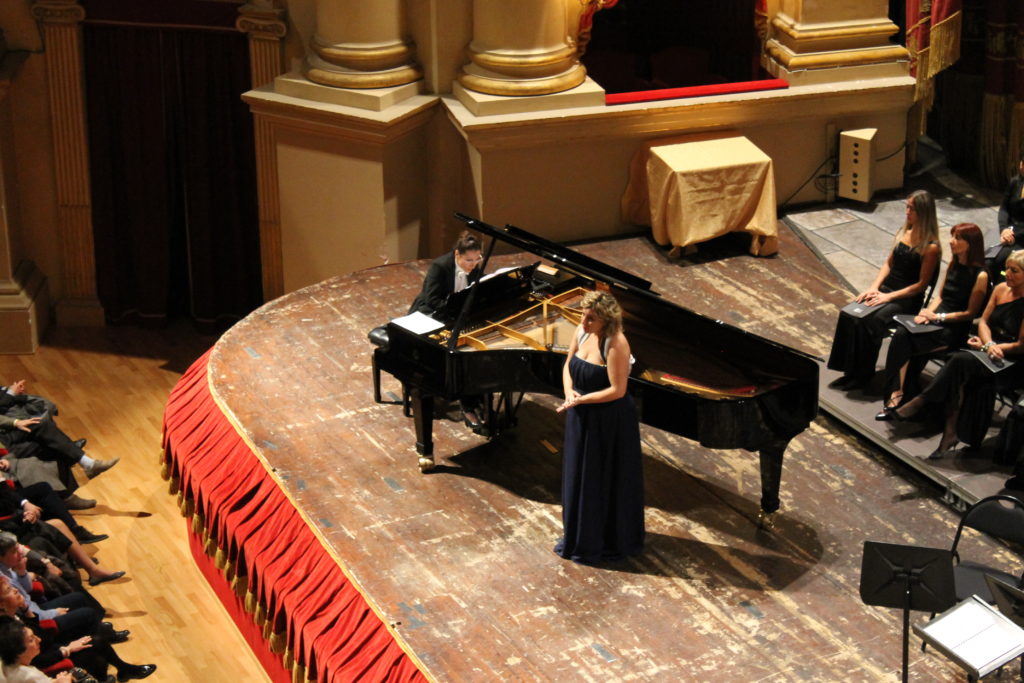 Elena Bresciani at the Teatro Filarmonico in Verona